DEFUNTOS – A NEGRA VASTIDAO DAS NOSSAS ALMAS LP (Bubonic Productions)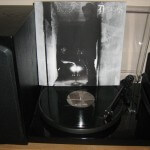 Along with 'Sangue Morto', 'A Negra Vastidão Das Nossas Almas' has also been reissued by Bubonic in the vinyl format, which is ideally suited to the analogue sound conjured by Defuntos. I remember being slightly disappointed by this album when it originally appeared as it wasn't quite on a par with the aforementioned debut. But it's still better than most other releases doing the rounds and is certainly worthy of investigation.
Again, we have a nice limited release with a single-sheet folding sleeve / cover with lyrics etc. printed (in Portuguese, of course) on the inside of the fold. The music itself is truly of the underground – lo-fi, creepy black doom 'metal' that's bass- and drum-heavy, complemented by eerie, sinister otherworldly chants and supplications.
Defuntos is a strange and wonderful band and this collection is as highly recommended as almost everything else they have put their name to thus far in their unheralded recording career(s). Dungeon music, cellar music, a demented journey. Blah whatever … just get it.
Evilometer: 555/666