DEMONCY – ENTHRONED IS THE NIGHT (Forever Plagued Records)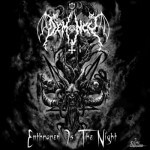 Been listening to this album around the clock for the past month or so now and, well, it's obviously extremely good stuff. Comprising eight slabs of deathly underground Black Metal and three excellent eerie instrumentals spaced out over 41 minutes, 'Enthroned Is The Night' is perhaps Demoncy's finest hour, though purists who invariably look at the past through rose-tinted spectacles will of course tell you that nothing comes close to the classic 'Joined In Darkness'. Personally, I think there's a valid argument to be put forward for both albums.
On his fourth full-length, Ixithra (for it is he and he is it) recaptures all the magic of old to deliver a smörgåsbord (albeit with little variety apart from the interludes) of dark decayed sounds which measures up favourably to most BM bands new and old. Perfectly produced in a non-obtrusive way and delightfully ancient- and necrotic-sounding, the spectral tone of 'Enthroned Is The Night' renders it an instant classic and when you hear an album this good you do have to wonder why Demoncy isn't regarded in the same overly-favourable light as some other US (and Scandinavian, let's call a spade a digging device…) acts who quite truthfully couldn't lace its boots.
I was going to wait and review the LP version of 'EITN' as this is clearly a release that deserve the vinyl stage but I've heard it could be 2013 before that surfaces – no point sitting on my thumbs that long… The record will be superb but the CD – a nice slipcase edition with lyrics included – is neat in its own right and can be picked up for a mere pittance if you know where to look.
Demoncy is back.
Evilometer: 555/666