DRAUGURZ / WOODSMARCH – SPLIT CD (Einsatzkommando Productions)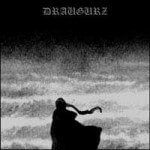 I discovered Draugurz while listening to his superb 'A Yell From The Past' collection. The magick on that release was sufficiently mesmerising to make me seek out this Einsatzkommando Productions split with fellow one-man Brazilian ambient / black metal entity Woodsmarch – and what a combination these two make! The two musicians help each other out on their respective recordings and this gives the split CD a symmetry and balance that most releases of this nature lack.
First we get approximately 20 minutes of raw, minimal plaintiff BM from Gaurhoth, who is surely the underground's best-kept secret. I've heard a lot of good lone-operator Black Metal over the years but, in terms of authentic feel and sheer spirit, Draugurz is right up there with the best of them. Lo-fi, harrowing and dreary it may be – and it certainly isn't the most technical output you'll ever encounter – but the fuzzy charm is a joy to behold. Raw and honest and pure (naive) blackness without cynicism or commercial care, this belongs in another era. 'Pestilencia II' is the ambient epilogue, a sombre soundtrack with a hint of fantasy that brilliantly rounds off Gaurhoth's contribution.
The second sole protagonist takes the baton seamlessly from his compatriot, submitting four equally captivating offerings, which are slightly shorter in total (due to the comparative brevity of the majestic, tribal instrumental  'Voice from the Soil' and the ridiculously raw and catchy 'Ancient Flame Awake') but live as long in the memory. 'The Ceasing of a Blaze' commences M.Vag's journey in a very straightforward and purposeful manner and there's barely time for an intake of breath before 'Quintessence' follows in an almost identical vein. Long after the final note has dispersed, you should still be awestruck by the art that has just gone before you.
Evilometer: 555/666