DROWNING THE LIGHT – OCEANS OF ETERNITY (Dark Adversary Productions)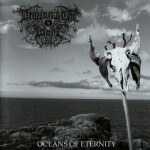 Generally speaking, Drowning The Light do not release bad albums. So it's no surprise that their twelfth full-length – which was unleashed in 2011 – was something of a cracker. It's taken me a while to get around to reviewing this; that's because (I am a lazy bastard and) I was waiting for the vinyl edition, which hasn't yet surfaced … so I've purchased the CD (which is really neat).
The music on 'Oceans Of Eternity' seems denser and more oppressive than a lot of DTL's latter releases but I don't have any problem with that. The vocals at times are difficult to discern as they're almost buried in the mix, but the murkiness works well and lends a real underground vibe to proceedings, which is always welcome.
There's not as much melody here as I was expecting, but the (keyboard) instrumental 'Drifting Away In A Sea of Sorrow (Part II)' provides some scant respite. Mostly, the offerings are chaotic, ferocious and feverish, with some lovely dark poetry bringing true pathos to the journey and helping the listener cope with the impenetrable (and often overwhelming) doom.
A challenging and inaccessible album – but all the better for it.
Evilometer: 555/666