VLAP TEPES / BELKETRE – MARCH TO THE BLACK HOLOCAUST 2LP (Drakkar Productions)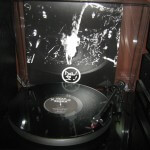 It's been quite some time since I looked forward to acquiring an album as much as this one. Featuring two of the leading lights from Les Légions Noires, 'March To The Black Holocaust' was originally released in 1995 but has just been reissued by Drakkar on both CD and double vinyl. The records caught my attention straight away…
I hadn't heard this split before, so it's been quite an experience getting acquainted with it. Both duos are part of French Black Metal folklore and it quickly becomes apparent exactly why they are so infamous: this is sheer, murderous underground pestilence of the most insane variety imaginable. It's far from easy listening from both parties and at times I am almost in pain as I let the music wash over me (or tear through me).
The eight crimes of Vlad Tepes are contained on the first record, ripping through the speakers like some ancient curse. Belkètre also serves up eight evil, evil contributions, which hiss and spit and reek of hatred and disgust. I can assure you that none of the offerings on this reissue have been remastered! Yet, somehow, the true spirit of Black Metal seems to pervade this hour-long odyssey.
Everything about this release is packed full of hate and the invective contained (or barely contained…) within the substantial liner notes leaves us in no doubt as to the nasty wishes and ill intent of the creators. Eighteen years may have passed since these bands were fully relevant, but they still sound great (strictly in the most analogue and underground of fashions) and, therefore, their legacy lives on.
Evilometer: 555/666