ELYSIAN BLAZE – BLOOD GEOMETRY 3LP (Osmose Productions)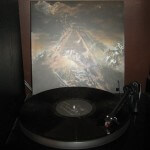 As I invariably adopt a wham-bam-thank-you-mam approach to writing reviews, an album of the sheer scope of 'Blood Geometry' presents obvious difficulties. Comprising eight tracks and some two-hours-plus of music spread out across three records, the third full-length from Australian one-man operator Mutatiis is a sprawling release and then some.
The 3LP edition looks sublime, encased in a triple gatefold jacket, with all the lyrics included and some lovely artwork and a nice layout to boot. Main problem for me is that my short attention span doesn't allow me the luxury of listening to this collection in one sitting. There's just too much of it. But I'm certainly not complaining about this – it's commendable when any band or artist treats fans to such undeniable value for money.
Elysian Blaze performs music that's generally considered to be a hybrid of Black Metal and funeral doom yet is somehow neither one nor the other. I'd describe 'Blood Geometry' as dark, spectral art that veers close to bands like Nortt and the more melodic side of classic Xasthur but maintains an identity of its own. It's pretty enjoyable stuff and – as stated – there's plenty of it but, unfortunately, the album still falls slightly short of being essential.
In summing up, this is a good album but by no means a great one. But the fact that you can purchase it in this fantastic format should probably encourage you to splash the cash and give it a go. Chances are you will enjoy it more than I do. And there are worse things you could do with €24!
Evilometer: 444/666