ENTHRONED – OBSIDIUM LP (Agonia Records)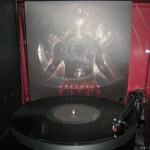 Enthroned truly is a strange beast. Active since 1994, they've released a grand total of nine full-lengths including this current one. But, who exactly is they? None of the original members remain in the band. Indeed, the line-up now is totally different to that which unleashed the awesome debut 'Prophecies Of Pagan Fire'.
Frontman Nornagest, who joined in 1995 (shortly after the aforementioned 'POPF' was recorded) and who handles vocals and guitars, seems to be the one who has held the Belgian troupe together through good and bad times. They've certainly had their lows over the years (including the death by suicide of founding member Cernunnos in '97), but 'Obsidium' is arguably their finest hour (or 40 minutes, to be precise).
My expectations for this album weren't too high, to be honest. Its predecessor 'Pentagrammaton' was a real disappointment and suggested to me that Enthroned were a spent force, happy to just go through the motions and survive on their moderately-cult status. How wrong was I? Two years later, they have followed one of their weakest releases with one of their strongest. Tired and washed up? Too old? Irrelevant? Fuck no.
While Enthroned never stray far from the template of pure evil, neck-breaking, pedal-to-the-metal Black Metal, they do what they do so well that they really are a joy to behear when they hit form like this. It would be easy for dyed-in-the-wool scene veterans to dismiss 'Obsidium', to just say 'I've heard it all before', but if you've already listened to this album and written it off I suggest you give it another spin and ask yourself how often have you heard blasting, in-your-face BM performed with such passion, panache and skill.
An atmosphere of old-fashioned devil-may-care badness prevails throughout and the production is pretty damn perfect, letting every blow through in just the right measure. For prime, unsophisticated black carnage with a fantastic sound, some face-melting guitar-work, drumming like the end of time and a feral spirit at its very core – all cased in a hard black shell – look no further. On 'Obsidium' the old guard have laid down a bold marker, defiantly showing the pretenders to their throne how this shit is done.
The result is a lethal, devastating exhibition of Black Metal ferocity with the merest hints of atmosphere and melody. By the way, it would be remiss of me not to point out how utterly magnificent and disturbing the seventh incantation of nine, 'Petraolevm Saliva', is… Or that 'Thy Blight Vacuum' is nigh on the best closing track an album of this ilk has ever showcased. Agonia has done an excellent job with the (180g) vinyl edition, which includes a 12×12 inner sheer with lyrics / pics etc. – a nice touch.
Evilometer: 555/666