ETERNA PENUMBRA – NUESTRA VACIA EXISTENCIA (Egg Of Nihilism)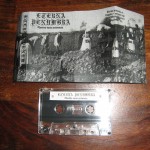 Egg Of Nihilism is the label that introduced me to the excellent black/doom brotherhood Defuntos, so I purchased this cassette (for less than a fiver, including postage!) with real confidence. This miniscule label, entrenched deep in the underground, has a proven track record for unleashing high-quality Iberian darkness and they have hit the nail on the head once more with 'Nuestra Vacía Existencia', the tidy debut full-length from Madrid trio Eterna Penumbra.
For a tape, the sound is very good and the packaging is much more adequate than I'd expected at such a reasonable price. I've bought cassettes before that turned out to be a total waste of money, but this one certainly doesn't fall into that category. Opener 'Un Viaje Hacia El Abismo' sets the tone for an unapologetically corrosive ride through harsh Black Metal terrain with nary a thought given to restraint or gift-wrapping. There's nothing quaint or pleasant about this album and I knew long before the second track – 'Nuestra Vacía Existencia' – had finished blasting through my speakers that this was not a journey for the meek.
Having said that, Eterna Penumbra are neither boring nor monotonous. Amid the repetitive, oh-so-familiar chords, notes and tones that we've heard a thousand times before there are also more-than-cursory attempts to create a uniquely menacing, disturbing mood – such as towards the latter stages of the title track – and these make a difference. Still, what we have here is standard Black Metal as opposed to ambient or atmospheric fare and – in this instance – standard Black Metal works just fine for me.
It's obscure, it's underground, it's genuine and it's worthy of investigation. But this cassette is also limited to just 300 copies, so you'd be best advised to act quickly if you want to acquire a piece of action so far removed from the mainstream that it almost doesn't exist. Nice to know that there's more to Spain than diving, cheating footballers.
Evilometer: 555/666