FELL VOICES – DEMO LP (Analog Worship)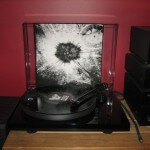 Regular readers of this website (i.e. myself and that American prick who keeps sending me hate mail) will know I have a soft spot for the incredible Fell Voices. Without doubt, this is one of the most mesmerising Black Metal bands to surface in the past decade and, true to form, this vinyl edition of their two-track demo cassette from 2008 hits the nail on the head.
I simply had to purchase as I already own all FV's other releases on record and completion is essential for OCD sufferers, but I knew there was a slight risk in stepping back to the Cascadian campers' pre-official-release days. However, I needn't have worried unduly because – while the songs are undoubtedly rawer and less-refined than their more recent output – this is nonetheless exceptionally high-quality fare.
Side B – 'In The Hands Of The Blind God' – is utterly magnificent, easily on a par with the ridiculously-good tracks on the 'Untitled' LP, taking the listener off  in a multitude of different directions, while 'Theobromo' on the first side is the most primitive-sounding offering I've heard to date from Fell Voices.
Even though this is not an essential purchase (after all, it's just a demo remastered and carved into black wax), it's still ten times better than most of the so-called BM albums coming out these days and it runs for a generous 36 minutes. So I tip my hat to Analog Worship for excavating it from the vaults of time and guarantee prospective buyers that they can't go wrong with this one. Or with any other Fell Voices album(s), for that matter.
Evilometer: 555/666