FUNEREAL MOON – EVIL NIGHT OF HERESY (Guttural Records)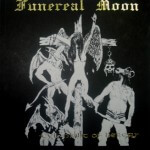 Not too many Black Metal acts (d)evolve to the same extent as Mexico city fraternity Funereal Moon, who have moved metaphorical miles away from their patented ambient sound of classic albums like 'Beneath The Cursed Light Of A Spectral Moon' and 'Satan's Beauty Obscenity' towards something altogether rawer, grimmer and more bare-knuckle. Last year's 'Rites Of Black Putrefaction' offered the first indication of the change that was to come and on this, their sixth full-length (not to mention a slew of compilations and splits), Darvula and Impure Ehiyeh complete the metamorphosis into a stripped-down, balls-to-the-wall Black Metal band.
Equal parts early Black Metal and old school Death Metal, 'Evil Night Of Heresy' almost completely eschews the ambient tones that were once Funereal Moon's signature, concentrating instead on the new trademark lo-fi, rumbling, somewhat punkish blackness that symbolises Funereal Moon Mark II.
Opener 'Misa Negra' is a short intro embellished with the sounds of Hellish torment and agonised torture leaving little to the imagination. With tracks like 'Unholy Goat Of The Necro Abyss' and 'Exhume The Corpse Of Their Fake Savior' blasted out in less than three minutes each, we're in Von and/or Funeral Goat territory. 'Excremento De Demonios' serenades Satan himself and 'Make Them Die Slowly' owes more to Abscess than it does to anything European. Indeed, it's important not to understate the DM influence on this album; it's so prevalent that I'd go so far as to suggest that Funereal Moon is now a Death Metal band…
Overall, the sound on here is of dirty, filthy Black / Death Metal, spewed forth without a care in the world. Subtle as a brick and pummelling along like Necromessiah on speed, Funereal Moon have found a niche for themselves producing crusty, ugly black noise that could have been recorded in a basement on a four-track using the cheapest, most primitive and undependable instruments (and probably was). The guitar solo that breaks up 'Black Noise Apokalypse', for example, is about as sophisticated as a wart but its lack of pretentiousness makes it all the more alluring. Outro 'After The Ceremony' is the audio equilavent of collapsing sanity, but it lasts for just a minute. Far be it from FM to labour the point!
Listening to the album as a whole, I at first wondered was it a collection of old demo tracks excavated from the vaults but, no, turns out this is a brand-new work, recorded in 2010. Credit, therefore, to the artists for accomplishing an incredible retro vibe. Truth to tell, 'Evil Night Of Heresy' probably contains some of the most simplistic, no-frills Black Metal to be released thus far in 2011 but its lack of complication and endearing sense of honest endeavour sets it apart from the pack. Thoroughly enjoyable stuff from a band that rarely disappoints and has found its stride on this decidedly chaotic, unsubtle CD.
Evilometer: 555/666