FURIA – NOCEL 2LP (Pagan Records)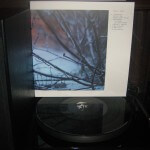 Furia's fourth full-length is a belter; an hour of powerful, left-field Black Metal spread across two slabs of black wax, housed in a gatefold jacket and with artwork that belies a progressive bent. Thankfully, the considerable experimental element of 'Nocel' detracts nothing from the album.
All in all, despite wandering oftentimes from the ancient path, this is a fantastic piece of work which suggests that there is after all – perhaps – a place for Black Metal that isn't predominantly raw and grim and primitive. The exception that proves the rule.
Off the top of my head, 'Dödsvisioner' by Bergraven was probably the last album of this ilk that I liked so much. I also bought 'Grudzien Za Grudniem' and 'Marzannie, Krolowej Polski' from Furia's back catalogue to further investigate this previously-unknown-to-me Polish act – I didn't enjoy those LPs as much as this one, even though they are pretty decent.
Conclusion: 'Nocel' is Furia's magnum opus, an unusual yet disturbing album that demonstrates just how terrible and over-rated Enslaved, Nachtmystium and countless other mainstream-hogging whores are.
Evilometer: 666/666