GRIMLAIR – SELF-INFLICTED STATE (Rigorism Productions)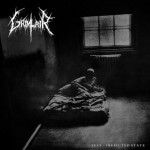 'Self-Inflicted State' is everything an underground Black Metal CD should be. It's creepy, eerie, adventurous and still raw, seething and sincerely dark. A bleak soundtrack for these dark and depressing days. All wrapped in a perfectly-executed thin, tinny production that barely allows the music to creep through, revealing the goings-on parsimoniously, thereby maintaining that under-produced, we-record-in-a-garage-and-don't-give-a-fuck feeling.
I've had the pleasure of listening to some of Cadavre's previous releases over the years – namely 'L'appel De La Nuit Funeste' on cassette and 2009 album 'Au Commencement De L'ombre'. Both solid, commendable efforts, but neither of them made quite the same impression on me as his fifth full-length under the darkened Grimlair banner. This CD is a throwback to the days when I first started to 'get' Black Metal. It's by the underground; for the underground; and of the underground. And it's very, very special.
Sometimes an album just contains that certain something, that rare, indefinable ingredient that elevates it above the rest. (I'm reluctant to use the term X Factor for obvious reasons.) 'Self-Inflicted State' is just such a release. For 50 minutes, we are brought on a harrowing journey through dark terrain; it's difficult not to empathise with the artist's feelings of utter dejection, indifference, contempt, acceptance. You can feel his pain. There are uplifting passages amongst the strife, too, but these are not glorious. It's more like he has discovered what we all should know: that the true answers lie in death rather than self-delusions of a happy life. And this is a release from the shackling ties of humanity.
The triptych 'Lethargy I', 'Lethargy II' and 'Lethargy III' form the centrepiece and main bulk of the work, clocking in at over half-an-hour between them. These songs carry a huge unbearable burden of despondency that is reminiscent in feel of bands like Gris, Hypothermia and Trist, but musically somewhat unique ('Lethargy II' is an especially excellent slice of ambient, melodic surrender, presented in a harsh manner).
Grimlair puts his own stamp on things, churning out a refreshing strain of repetitive, hypnotic, persistent, depressing BM that's both familiar and new at the same time. The key to the resounding success of 'Self-Inflicted State' is that it all sounds authentically underground, so this release cuts through the sickening light like a bloodied dagger of intent, reeking of integrity.
Evilometer: 555/666