HERMÓÐR – VINTER (Schattenkult Produktionen)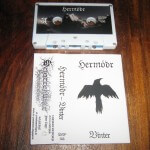 Schattenkult Produktionen has few – if any – peers when it comes to consistently releasing quality Black Metal tapes. This label keeps churning out amazing analogue music that can be bought for a mere pittance and Hermóðr joins the growing legion of underground acts brought to my attention by Michael and his impressive imprint.
The vision and execution of one tortured soul, 'Vinter' provides us with six cuts of melancholic Black Metal spread out over 49 sanity-shredding minutes. Harrowing, bleak, despondent and thoroughly abject, this is clearly not for the faint-hearted. At times (particularly during 'Månen & Skogen' – the first tune on Side B), I found that the forlorn sense of misery was almost too much to bear and that the dejection was possible being laid on too thickly … but then I realised that was just my life.
By and large, this is a very commendable cassette. Comes as a pro-tape and the sound quality is very good indeed. Considering that Hermóðr's dreary debut full-length will set you back just €3, it is ridiculously easy to recommend.
Evilometer: 666/666