IMMOLATION – KINGDOM OF CONSPIRACY LP (Nuclear Blast Records)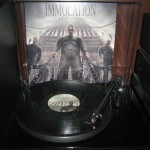 Immolation have marked their 25th anniversary (astonishing when you really think about it!) by delivering their ninth full-length recording. At this stage, the New Yorkers aren't going to deviate from their tried-and-trusted formula, so – in almost every respect – 'Kingdom Of Conspiracy' is exactly what I expected it to be: an Immolation album!
These guys have nothing left to prove. They have unleashed some of the greatest records in the history of Death Metal (my own personal favourite being the dark and paranoid 'Shadows In The Light') and they boast a longevity that most other bands can only dream of. While 'Kingdom Of Conspiracy' falls some way short of being their finest work, it's still a great example of master craftsmen in action.
Definitely not the most memorable record you'll happen upon this year but still highly impressive in execution (and not just for nostalgic reasons). Lyrics etc. included inside the gatefold jacket. In short, a record that deserves to be bought.
Evilometer: 555/666