IRAE – TO THOSE WHO STAND… EVIL PREVAILS (Infinite Darkness Productions)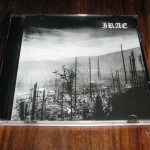 Black Metal is a simple business, really. No need to over-complicate things. Some artists are able to churn out release after release of authentic BM without seeming to break stride. They sound like they can almost do this in their sleep. Irae is just such an act.
'To Those Who Stand… Evil Prevails' combines the five tracks from 2011 demo cassette 'In The Veins Of Satan' with those from last year's 'Seven Hatred Manifestos' demo tape; the CD in turn comprises 46 minutes of simple but fantastic, fizzing  underground Black Metal.
It's because of music like this that I fell in love with Black Metal in the first place. There's a wonderfully eerie, chilling atmosphere evident throughout 'To Those Who Stand… Evil Prevails' and you just know from listening to the songs that creator Vulturius doesn't give a flying fuck. About anything. On the same day that I nearly swallowed my own tongue listening to the putrid vomit that is the new Darkthrone album, it was utterly refreshing (and reassuring) to give this splendid CD another spin.
Complete with customary puerile band member photos and bleak imagery, this underground gem really does tick all the boxes. And the review therefore practically writes itself, which is always a welcome bonus.
Evilometer: 666/666