V/A – SVN OKKLT 2xCS (Fallen Empire Records)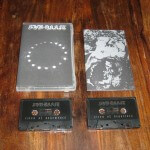 Seriously, it doesn't get much more underground than this partnership between the Svn Okklt blog and Fallen Empire Records – a double cassette showcasing eleven superb bands, most of which I assume are on the label's roster. The tapes are housed within a DVD-style case with a 24-page booklet featuring lyrics, imagery, manifestos and notes. You'll get this collection for about €10 and it's a real bargain.
Notwithstanding the fact that I never heard of any of them before(!), I'm not going to list off the bands involved (see the Tags below) or start comparing them to one another – partly because I'm too lazy but also because it's rather pointless. All the music on these tapes is wonderful. Suffice to say, if you want to expose yourself to some excellent underground Black Metal from relatively-unknown artists from around the world, then this is a great place to start.
The music spreads out over three sides of the two cassettes, divided into distinct sub-sections: Rites of Vehemence, Rites of Pestilence and Rites of Departure. Conceptually, the enlisted artists share a common philosophy, centred not-so-loosely around the inherent worthlessness of man, the scum.
The full album is available to download in MP3 format for free from the Svn Okklt website – as are other blog-approved cassette releases – but I would advise strongly that you purchase the tapes from FER as well. They are worth owning and the label deserves our support if it is going to keep conjuring stellar releases like this one in years to come.
Evilometer: 666/666