KRATER – NOCEBO LP (Eternity Records)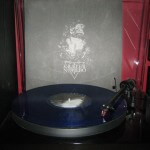 The CD version of Krater's sophomore full-length came out last summer but I held out for the vinyl edition, having already purchased the exquisite 2LP of 'Das Relikt Des Triumphes' a few years back.  I was expecting something grand with this new one and I haven't been disappointed.
The label has done a wonderfully professional and eye-catching job with this release, which looks and sounds fantastic – the inclusion of a lovely little booklet with lyrics and some nice pics and artwork is an added bonus. Musically, the German quartet are under-rated.
I spotted 'DRDT' hanging around in a lot of webstore bargain baskets and honestly can't understand how and why that album wasn't gobbled up by the masses. Somehow it slipped under the radar … shame. The follow-up is equally impressive, although I must admit that Krater are doing nothing new on here. It's run-of-the-mill Black Metal for the most part … but isn't that what Black Metal fans should crave? When it's as well executed as this, I really can't get enough.
In short, this one isn't going to change the landscape of the underground and it doesn't try to redefine the genre in any way whatsoever. 'Nocebo' simply delivers eight slabs of solid, fairly melodic BM (plus an Intro), including the twelve-minute closing epic 'Zerrissen', which is worth the price of admission on its own.
I'd recommend moving fairly quickly if you wish to acquire this record, however, as Eternity's vinyl releases are usually limited and often end up in the hoggish hands of glorified touts.
Evilometer: 555/666