KRYPTS – UNENDING DEGRADATION LP (Me Saco Un Ojo Records / Detest Records)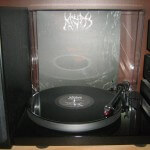 The debut full-length from Helsinki-based Krypts comprises almost 40 minutes of great mid-paced, semi-guttural Death Metal with a dark and evil atmosphere. This album is an exercise in simplicity itself, sticking to tried and trusted formulae to spawn a truly fantastic, catchy-as-Leprosy work that sounds spontaneous, organic and downright awesome.
In a way, it's almost like the last 20 years didn't happen at all. Certainly no harm in that… There's no need to overcomplicated Death Metal (or Black Metal, for that matter) and it's refreshing to listen to some genuine music untainted by post-this and / or avant-that. (Isn't post-metal the most abominable development ever?)
This is perfectly-produced, excellently-executed DM and – admirably – it doesn't take a rocket scientist to unravel the lyrical themes. The record includes a neat A5 booklet with lyrics etc. and looks as impressive as it sounds. If you like good, honest Death Metal then you are sure to appreciate what Krypts are doing on 'Unending Degradation'.
Evilometer: 555/666