MARDUK – SERPENT SERMON (Century Media Records)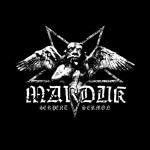 'Serpent Sermon' is Marduk's twelfth full-length and their fourth with Mortuus on vocals. I've always preferred the Swedes' work with the Funeral Mist mainman at the mike – particularly 'Rom 5:12' and 'Wormwood' – to their earlier, more-widely-celebrated material but I'm not so sure about this one.
Apart from the obvious question of where does Funeral Mist end and Marduk begin (and I don't mean to be pedantic as, obviously, Arioch has a very distinctive voice…), there's also a definite feeling that Marduk are going through the motions a bit on their latest album.
To my ears, there are a lot more fillers on here than you'd normally get on a Marduk album and the whole thing ultimately sounds a bit monotonous, stale and uninspired. Of course, it's still Marduk so you know 'Serpent Sermon' is going to be better than many other albums released this year. But – selfishly, perhaps – I expected more from one of the all-time greatest Black Metal bands.
In the heel of the hunt, this is a solid enough release, containing three or four genuinely outstanding songs (and at times it borders on the magnificent, especially the stunning bonus track 'Coram Satanae'). But, when it comes to writing Marduk's epitaph, I don't think 'Serpent Sermon' is going to be mentioned as one of their most magical hours.
A classic case of a superb band failing to live up to their own incredibly-high standards. Good but not great.
Evilometer: 333/666