BLUT AUS NORD – MEMORIA VETUSTA I: FATHERS OF THE ICY AGE LP (Debemur Morti Productions)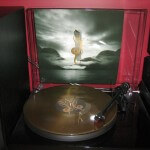 Are you inherently cynical, like me? Is it engrained in your DNA to be automatically suspicious of everything, especially musical recommendations? Have you ever laughed hysterically to yourself upon hearing the phrase 'timeless classic'?
Are you sick of having substandard shit shoved down your throat by essentially dishonest, impartial reviewers who are interested only in masturbating their advertisers? Perhaps you need a blast of Blut Aus Nord's peerless sophomore full-length to restore your faith in a subgenre that's been prostituted, pimped and flogged to death by decades of media abuse…
Sixteen years on from its original release, 'Memoria Vetusta I: Fathers Of The Icy Age' has been lovingly given the vinyl treatment by maverick French label Debemur Morti. This is a colossal release in every respect.
With stunning new artwork and a 180g record available in either gold or grey vinyl, new life is breathed into a magnificent collection of songs that epitomises the first chapter of BAN's uniquely stellar recording career. On this album, you will hear a band much different from the Blut Aus Nord we all know and love today – but equally brilliant.
As ever with this label and / or band, you cannot go wrong with this.
Evilometer: 666/666