MEGIDDO – THE HOLOCAUST MESSIAH LP (Iron Pegasus Records)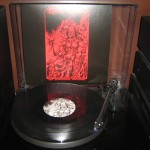 There's certainly nothing remarkable about this album; nor does there purport to be. Megiddo is a one-man operation from Canada specialising in simplistic, old-school, distinctly straightforward Black Metal with no frills whatsoever and not much that'll bury itself inside your memory banks, either.
For half an hour, 'The Holocaust Messiah' just plods along, doing what it says on the proverbial tin, neither annoying nor destroying. Ultimately, it's harmless, inoffensive, by-the-numbers stuff that's moderately entertaining (and well worth a listen if you have nothing better to do).
While underground Black Metal obviously doesn't really have to justify its existence beyond that, alas, this record is disappointingly pedestrian and uninspiring (despite not being shite).
Evilometer: 222/666