NEFARIOUS – THE UNIVERSAL WRATH (Cold Dimensions)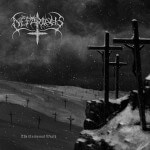 With a trio of exciting new releases on the way, this label is pretty hot right now. Hungarian horde Nefarious plays chilling Black Metal in the old style with a generous sprinkling of keys adding to the atmosphere (without fucking it up). Their debut album delivers seven enjoyable tracks over the course of 41 minutes and clearly marks Nefarious out as a band to keep an eye on – despite the band members' dubious connections with this shit.
I think the penultimate song on 'The Universal Wrath' best sums up Nefarious: 'The King Of Slaves' is an epic eight-minute workout with lots of mood changes and enormous scope, executed with superb vision. The protagonists manage to keep things interesting throughout; the music never gets boring; quality control is perfectly exercised with not a loose or unnecessary note included anywhere on the album.
Despite being ambient and trippy at times, there remains a truly nasty streak to proceedings – particularly those evil, gnarling vocals – and Nefarious manages skilfully to unlock the balance between pleasant and horrible, an art lost on many of their peers. With 'The Universal Wrath', Cold Dimensions has plucked a band from the obscurity of the underground and given their music the coverage and treatment it deserves.
If you like the idea of cold, epic Black Metal that's big on atmosphere yet nonetheless relatively menacing, nodding reverently to the early days of Immortal and Emperor and Nocturnal Art output but still ploughing its own unique, frosty path, you could do a lot worse than acquiring this.
Evilometer: 444/666