NUNFUCKRITUAL – IN BONDAGE TO THE SERPENT (Debemur Morti Productions)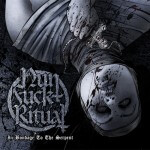 The 74th release on French label Debemur Morti Productions is going to be very, very special indeed. "In Bondage To The Serpent" – the debut album from veritable extreme metal ubercombo NUNFUCKRITUAL represents something of a departure from the norm for the imprint as it's not the typically-excellent strain of underground Black Metal one would readily associate with DMP. Instead, it's altogether more, well, indescribable. Indescribably brilliant.
I grew up listening to and loving bands that Dan Lilker was associated with but I sort of assumed he was yesterday's news at this stage and never thought I'd see the mighty mop-haired one involved in anything so fresh, vibrant and relevant as this. Colluding with Teloch (Mayhem, Nidingr), Espen T. Hangard (Altaar) and Andreas Johnson (Tyrant), he has surely re-invented himself on "IBTTS", a release that will introduce him to a whole new generation – and category – of metal fans. We also have guest slots here from Attila Csihar and Ravn (1349), so if that doesn't pique your interest then you must be dead already.
Normally, when so many known names come together the result is a major disappointment but, incredibly, 'In Bondage To the Serpent' is actually greater than the sum of its individual components. The album is like the fucked-up soundtrack to your worst nightmare (everyday life, maybe?), twisted and contorted, evil and nasty, eerie and spiteful. It captures an immense atmosphere of pure and utter filth. It's truly sick and depraved. Musically, its neither death nor black, sludge nor doom. It's something new and unique. I won't even try to describe it (I can't, anyway…); you just need to hear this leviathan for yourself.
I can't think of another existing band I'd compare NFR to. They've torn up the rulebook and reinvented extreme metal in a stunning new incarnation. This is totally mandatory for anyone who likes dark and evil music. Won't be available until October but, trust me, this one will be well worth the wait.
Evilometer: 666/666