ODZ MANOUK – ODZ MANOUK LP (Final Agony Records)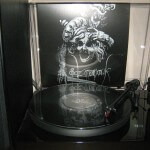 Originally released two years ago on cassette by Crepúsculo Negro, this magnificent demo has been made available in the mandatory vinyl format by Final Agony. We are treated to six tracks of majestic underground Black Metal from California spread out over a beguiling 36-odd minutes and this is definitely a record that is difficult to set aside.
Odz Manouk instil a bit of everything into their dark art – aggression, anguish, melody, rawness all within a harsh template but with soaring atmospheres and uplifting moments that render the music thoroughly addictive. Even though it's not the longest recording you're going to hear, 'Odz Manouk' is nonetheless fulfilling in a way that an 'album' of this length has no right to be.
Obviously, I'd prefer if it was longer but you can't have everything in life and, to be honest, I'm just glad I bought this after a couple of duds worked their way deceivingly into my collection lately. Odz Manouk is definitely a band to keep an eye on, though I doubt they will ever surpass the quality of their debut release, which also happens to be excellently produced.
Evilometer: 666/666