SARGEIST – LET THE DEVIL IN LP (World Terror Committee)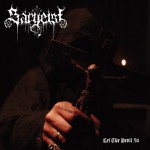 With members of Horna and Behexen on board, Sargeist is clearly something very special indeed. The follow-up to 2005's magnificent 'Disciple Of The Heinous Path' was a long time coming but 'Let The Devil In' finally arrived late last year via Moribund Records, with World Terror Committee handling the rather attractive vinyl version. Superior sound quality over the digital format aside, this is one of those albums whose artwork demands a vinyl incarnation.
It looks and feels the part, that's for sure – but does 'LTDI' cut the mustard musically? To be honest, I'm not sure. We get ten tracks of overtly Satanic Black Metal, singing the praises of the Hell-dweller himself but somehow managing to sound disappointingly monotonous and uninspired. On Side One, 'From The Black Coffin Lair' was the only song that really grabbed me by the balls and inspired me to sit up and take real notice, while the LP's penultimate cut 'Twilight Breath Of Satan' is arguably the only truly exceptional tune on Side Two. The otherwise unforgiving pace and intensity drops a notch on these songs, which is possibly why they stand out … a bit of variety. That's not to say the rest of the album isn't good; it just isn't great. And I expected more from such a talented crew, especially considering how much I enjoyed the predecessor.
Perhaps I need to give it a few more listens to allow 'Let The Devil In' to work its full magic on me, but for the time being it isn't moving me as much as I'd like. All the prerequisite ingredients are here that should make for an outstanding BM album: ferocious guitars, harsh vocals, boundless energy in the rhythm department. It's an unforgiving, relentless onslaught, the sort of devil-worshipping album that is designed to pummel the listener into submission. Flawless in execution and evil to its rotten core, this is sinister stuff. A ripping Black Metal album; no more, no less.
Evilometer: 444/666