SATANIZE / ETERNA PENUMBRA – ANTI-INTRUDERS / OLVIDO LP (Discipline)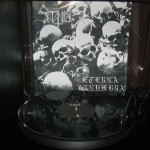 There are a lot of good things about this split LP, which pairs two fine bands from the Iberian underground. First and foremost amongst these is the absolute reality that all six songs represent fine examples of what Black Metal is all about. Secondly, the record arrives courtesy of one of my favourite labels, so you just know it's going to be finished professionally, with fitting artwork and imagery, including lyrics and Discipline's by-now-customary fold-over pseudo-gatefold cover. Very underground!
Another plus point is the fact that 'Anti-Intruders / Olvido' won't cost you an arm and a leg. Originally self-released a couple of years ago on cassette format, this joint effort looks, feels and sounds the part on vinyl. Both bands deliver very raw, cavernous, grating Black Metal. Not very subtle, but there is a hidden depth and warmth to Eterna Penumbra's tracks in particular. A strong sense of melody lurks in the murk.
This is actually my first exposure to the no-frills evil of Satanize and I am pleasantly surprised by their sound and style (maybe it's the name, I half-expected them to be rubbish); Eterna Penumbra is not a new phenomenon to me – I reviewed their outstanding debut album 'Nuestra Vacía Existencia' almost two years ago.
The main downside to the deal is that there is only 25 minutes of music on here, which places the record somewhere between EP and MLP territory. This is disappointing; I'd prefer a bit more meat on the bones. Still, all in all, we get some very enjoyable music that's well worth digging out… which leads me to the second negative: this fine record is limited to just 150 copies.
Evilometer: 555/666