SPECTRAL WOUND – A DIABOLIC THIRST (Profound Lore Records)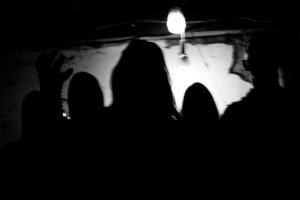 On their superbly-crafted and skilfully-executed third full-length, Spectral Wound celebrate Black Metal's most essential spirit of decadence, but they have done so on their own terms as 'A Diabolic Thirst' manages to get the balance right between paying homage to the masters of the subgenre whilst remaining neither contrived, derivative nor unnecessarily nostalgic. Thus, we are treated to two-thirds-of-an-hour of stellar, uplifting Black Metal that is paradoxically reassuringly ancient-sounding but at the same time fresh and vibrant.
'Impérial Saison Noire' provides a suitably frigid and intoxicating opening to proceedings, awash with triumphant ferocity but imbued with a devilish sense of melody to serve as a welcome counterpoint to the innate rawness. The hypnotic and comfortingly-familiar riff at the start of the aptly-titled 'Frigid And Spellbound' will take you back to those church-burning days of yore in the great north, before the shrill vocals and contemptuous drumming dance a tattoo across any sense of lingering hope. 'Mausoleal Drift' is epic in scope and effect; 'Fair Lucifer, Sad Relic' sears and scorches and consoles.
Essentially, the Spectral Wound attack is mercilessly raw and grim but their curses upon humanity are laced with majestic and inexorable icy-cold melodies, bringing to bear the biting bitterness of the harshest tundra. It's a potent brew – a glorious recognition of the irrevocable power of nature rather than any meek surrender to the forlorn reality of utterly-irrelevant existence.
The approach to conjuring darkness has much in common with Finland's finest but, as I've already intimated, this is merely an indicator of the style of Black Metal Spectral Wound delivers rather than a pigeonhole to place them in. Quality Black Metal never grows old and 'A Diabolic Thirst' shows that Spectral Wound can plough their own furrow, albeit along an already-established and proven path, veering leftwards.
Evilometer: 666/666