SVARTSYN – THE TRUE LEGEND LP (Agonia Records)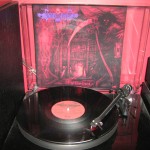 First off, I must confess to being unfamiliar with the original incarnation of this album, which was spawned back in 1998 and, by the band's admission, wasn't blessed with the sound quality and production techniques it merits. (When has that ever been a problem in Black Metal before?!) So, with the benefit of hindsight, they've reissued their much-celebrated debut, with a totally new sound, partial re-recording and a modified track list (trimmed from eight songs to seven). The result is extremely impressive.
As a stand-alone, new album – even overlooking the fact that it is a reissue – 'The True Legend' 2012-style sounds like a genuine classic. The vinyl version also looks fantastic, with superb retro artwork, and lyrics etc. included on the inner sleeve. The music captures perfectly that all-too-elusive ancient feel (for obvious reasons), an homage to death and misanthropy executed with panache and precision and now revealed in all its glory as originally intended.
The balance between murky and clear, between raw and crisp, is spot-on; this is simply seven cuts of prime Scandinavian BM re-excavated and regurgitated for your insatiable listening pleasure. It's not every day that a classic Black Metal album is reinvented. While my natural inclination is to be cynical about these kind of releases (the Burzum re-workings were pathetic, for example), it would be churlish of me to say anything negative about 'The True Legend' reborn. Wonderful stuff!
Evilometer: 555/666