TAAKE – NOREGS VAAPEN (Dark Essence Records)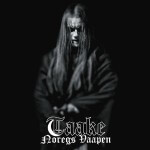 First off, let's not concern ourselves too much with the guest appearances. Is it really that important in terms of the actual music? Nope. Suffice to say some of the early forebears of Black Metal have seen fit to pay homage to Taake (AKA Hoest) by contributing to the Norwegian's fifth full-length, 'Noregs Vaapen', and the fact that these seminal individuals are prepared to make such a gesture speaks volumes for the niche that second-wave sensation Taake has carved for itself during a rather extraordinary 16-year career to date.
Taake religiously releases an album every three years and each full-length from its glowing canon is absolutely mandatory, the latest being no exception. Opener 'Fra vadested til vaandesmed' sets the tone – an excellent chunk of raw yet melodic BM majesty and 'Orkan' is even more melodic, cleaner, more accessible, but still contains a harsh and heavy edge, ripping and roaring, flipping and soaring. A great start to the album and there's no let-up on the oftentimes mid-tempo 'Nordbundet', which transforms into a bouncing headbanger before disappearing from earshot, leaving a lasting impression.
There's nothing grand, spectacular or flash about Taake (apart from perhaps the crazy and commendable banjo solo in 'Myr'); he just does the simplest things very, very well and delivers solid, by-the-numbers Black Metal that's impossible to ignore and even harder to dislike. The artwork, imagery and presentation are all as impressive as the music (which is flawlessly produced), culminating in an overall package that will take a lot of topping. Ten-minute closer 'Dei vil alltid klaga og kyta' is especially captivating in an almost-The-Ruins-Of-Beverast-style-doomy-BM way.
Residing somewhere between the underground and the Black Metal mainstream (now there's a concept!), Taake is a law unto itself and one of the most intriguing Norwegian exports of the past two decades. I heartily recommend 'Noregs Vaapen' – and every other album released by Hoest and his ever-changing horde of accomplices.
Evilometer: 555/666