THE RUINS OF BEVERAST – ENCHANTED BY GRAVEMOULD MLP (Ván Records)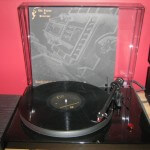 'Enchanted By Gravemould' assembles some odds and ends from assorted periods in TROB's extraordinary career to form a mini-album that could be equally construed as either a stop-gap release of little true merit or an essential piece of work for completists, dedicated followers and the uninitiated alike. It all depends on your circumstances, your perspective, your degree of exposure to this 'band' and, of course, your level of cynicism…
So, is this a cash-grab from the label? Perhaps. You'd have to ask them. But there is merit in the argument that they are genuinely putting these tunes out there to allow listeners an opportunity to enjoy them together, preferably in the vinyl format (it's also available on CD). Personally, I'm sitting somewhere in between: I rate The Ruins Of Beverast as probably the finest Black Metal artist in existence today, so this is already ten times better than most releases. At the same time, I'm not sure how mandatory it is.
The unbelievably brilliant 'The Desert Lair' – culled from the greatest split LP ever released – kicks things off and the bottom line is that if you don't already possess a copy of 'Gott In Uns' on record then straight away you have to purchase 'Enchanted By Gravemould'. Next up is 'The Moselle Enigma', taken from the infamous split with Urfaust, which unfortunately I don't own. I don't think the split was ever officially released. You had to ask the label for a copy; I didn't. A decent song, but nothing overly-special.
Side A is completed by the eight-minute 'Hours Of The Aequinox', which originally appeared on the bonus 7" that accompanied the earliest vinyl edition of sophomore full-length 'Rain Upon The Impure'. Again, I missed that. It's a familiar-sounding song (could be called 'The Desert Lair II'), sort of fizzing and raw and lo-fi, almost depressive but also grande. Worth having for sure, so once more here's a tune that's worthy of the price of admission.
The second side is more disappointing, comprising three covers of bands who must have influenced Alexander von Meilenwald in some way during his life, though thankfully this isn't evident in the music he composes himself! 'Enigma Of The Absolute' is from Dead Can Dance (good for them); 'To Have And To Hold' was conceived by those masters of darkness Depeche Mode; and 'Symphonaire Infernus et Spera Empyrium' is of course a classic My Dying Bride epic from the 1992 EP of the same name.
The latter is a frighteningly faithfully rendition (all 16 minutes of it) and pays worthy homage to the masters of doom. I realise doom is an integral component of TROB's unique sound but for me this side of the wax is sounding too much like Type O Negative for comfort. Not particularly what I enjoy but I knew this would be the case before purchase and still went ahead and parted with my cash.
All in all, 'Enchanted By Gravemould' is an interesting release that should bring great joy to many. It contains one side that's close to perfect and one that's far from perfect. I'm loathe to say anything negative about this incredible artist so I'll conclude by recommending this to a degree but not nearly as wholeheartedly as I would endorse 'Unlock The Shrine', 'Rain Upon The Impure', and 'Foulest Semen Of A Sheltered Elite' – which together constitute an unmissable triptych of true Black Metal majesty.
Evilometer: 444/666