RIDE FOR REVENGE – UNDER THE EYE LP (KVLT)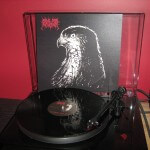 The third full-length release from Ride For Revenge is yet another captivating odyssey. This band can do no wrong and 'Under The Eye' cements their position at the forefront of the frightfully fresh and vibrant Finnish Black Metal scene. While they may not peddle what you could call orthodox or traditional BM, RFR's music is nevertheless intriguing, invigorating and downright essential.
Scaly, bizarre, semi-electronic opener 'For Those About To Kneel' doesn't particularly fit in with the rest of the album at all. As intros go, it is dubious at best but I'm prepared to grant the artists the benefit of the doubt on this one, confident that it's deliberately odd and unusual as opposed to just pure dumb and ill-thought-out. For the next 40 minutes or so, it's a thrilling ride, culminating in the excellent title track, which closes with warm fuzz and noise and weird samples and spoken parts. A nice evil end to a deliciously-nasty slab of excellent extreme musick.
Here is a band that deserves to be enjoyed in the vinyl format. Their sound is perfect for black wax and they also release mandatory splits (such as this) as well as the compulsory LPs. Debut 'King Of Snakes' had me hooked from the off and 'Wisdom Of The Few' required repeated listening before its undeniable majesty finally washed over me. The new album hit me hard first time I spun it and it has been easily standing up to a ridiculous amount of repeat listens.
Bass- and drum-heavy, tracks like 'Second Gate Opening With Power', 'Prevail In Hell' (which features some almost psychedelic guitar playing at the end), 'The Gutter And The Grave' and the utterly schizophrenic, warped sermon 'Through' at the start of Side B are up there with the best songs of any genre you're going to hear these days (not to forget the gurgling behemoth known as 'From Darkness We Ride'), while the breathtaking instrumental tunes  'Conversation In Death' and 'The Hawk Appears' are brilliantly-composed and -performed slices of dark dementia.
All in all, this is the latest chapter in RFR's obscure take on weird slow-to-mid-paced Black Metal and it couldn't be farther from disappointing. The whole ugly thing appears in a sumptuous gatefold sleeve, with one-sheet inlay and crazed lyrics included. I think you need this tribal, primal, deathly, haunting LP badly.
Evilometer: 666/666