THOTH – ZAMGLENIE (Lower Silesian Stronghold)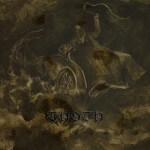 We all know (and love?) Graveland, but Thoth – a depressive Black Metal triumvirate including one Rob Darken amongst its ranks – remains relatively unknown. The debut full-length 'From The Abyss Of Dungeons Of Darkness' was superb and this follow-up is equally captivating. Personally, I am a sucker for Graveland's earlier work, all of which I own on vinyl and treasure deeply.
'Zamglenie' contains the same kind of innocence. It's carefree, naïve, infectious black art imbued with a passion and honesty that's hard to come by these days. Granted, it's repetitive and I daresay it's pretty simplistic, too … but damn if these songs aren't as effective as a Nemanja Vidić tackle on the edge of the box. No frills, no nonsense, no standing on ceremony; just 35 minutes of unapologetic darkly-atmospheric Black Metal that resides somewhere between classic Infernum, Leviathan and 'The Eerie Cold'-era Shining.
The vocals on this release are extraordinary: pained, rasped howls and shrieks, laced with agony and spewed forth from a world wracked with pain. There's little or no variation – just a barrage of pained gasps that resonate with authenticity. Varying shades of black, if you like. Isn't this how BM 'singing' was meant to be before a sickening proliferation of clean vocals and choirs hijacked the subgenre, threatening to ruin it? Unsettling and discomforting, the bombardment of rasps on 'Zanglenie' comes as a right breath of dank air. And it's most welcome.
If you're looking for something palatable, accessible and easily digested, I suggest you take your search elsewhere. Thoth's Black Metal is not for the faint of heart. These guys – who double up in bands like Selbstmord, Ohtar, Dark Fury, and (of course) Veles and Lord Wind – play the game by their own rules, making no concessions and adhering strictly to an ummistakably traditional black template. As suggested earlier, the album does tend to cover the same ground throughout its duration but monotony is never a danger when the music – and, more importantly, the mood – is this impressive.
Evilometer: 555/666