TRISKÈLE – IV (Schattenkult Produktionen)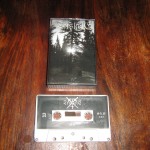 I recently purchased nine full-length albums from German label Schattenkult Productionen for a grand total of €32, including postage. That's €3 per tape. As he's practically giving his albums away, I'm not sure how the guy behind this operation keeps the show on the road but, anyway, there's great value to be had from the buyer's perspective.
I'm not a massive fan of the cassette format, if truth be told. In fact, it's my least favourite of all, some distance behind records and CDs and even less appealing than the MP3 in many respects. But it is kinda cult, I guess, and the reality is that some underground releases are cassette-only – Triskèle's fourth full-length being a case in point (thus far) – while from time to time it is simply more prudent to opt for the tape as it is cheap.
'IV' is limited to just 300 units and I'm confident these will disappear quickly (if they haven't already) at the giveaway retail price listed. Remember, this isn't three beans for a shitty-sounding piece of crap; you're getting a proper album, with a running time of around 55 minutes (including two bonus tracks), decent sound quality and even some lyrics included on the fold-out inlay.
To the value quotient, add in the fact that the Canadians have delivered a very enjoyable – if perhaps tame enough at times – consignment of inoffensive, mid-paced, pagan Black Metal, mostly triumphant and epic in vibe but also more gloomy in parts. If you own a tape deck and like Black Metal and are on a tight budget, there's no real reason not to buy this.
Evilometer: 555/666