URFAUST – DER FREIWILLIGE BETTLER LP (Ván Records)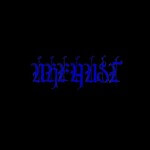 Urfaust emits some of the most unusual Black Metal out there and nowhere has this ever been more apparent than on their third full-length, 'Der Freiwillige Bettler', brought to you courtesy of German label Ván Records. I purchased the Intoxication Edition of the record, which comes with a sumptuous old school gatefold sleeve with a flap, including a 12-page booklet replete with lyrics and etched onto blue vinyl. It's a beautiful package; one you could look at all day if you're a nerd like me with no life.
Five years after their last LP (during which time we were served intermittent EPs and splits), the Dutch duo have returned with an album that meshes Black Metal, doom and dark ambience with all manner of weirdness. This music is simply disturbing, unsettling and pure damn mesmerising. The vocals are otherworldly, arguably the most atypical BM voice you're ever likely to hear: chanted, Gregorian sermons that could well come from an altar in some decayed church on the outskirts of civilisation.
Part Circle of Ouroborous; part Pete Steele; part Candlemass; part fucking lunatic; part priest. (I realise the last two parts are practically the same thing.) No croaks, no rasps, no shrill shrieks – just that patented, disturbing chant that's closer to classic doom than black, in all honesty, but fits Urfaust's music like a glove. Whereas some BM vocalists sound like frogs or fraggles, IX comes across as being completely insane. Which is good, of course.
The production is spot-on, with every note allowed to creep through the gloom, and the clever use of synth breathes further life into proceedings, adding depth and scope to an already multifaceted work. The songs march along – often at funereal pace, somtimes brisker – with sombre menace, an unnerving amalgam of black and doom that is wholly unique and worthy of further investigation. If you ever decide to perform a candlelit ritual in a cave that happens to have a sound system installed, this is the record you should bring with you. 'DFB' represents a career-defining moment for Urfaust and is undoubtedly a record I'll be listening to over and over again.
Evilometer: 555/666