VARGANOCTE – ALS DIE NACHT ANBRACH (Thor's Hammer Productions)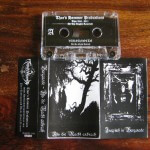 Here's one for the underground Black Metal maniacs out there! This cassette was unleashed earlier this year and it looks and sounds superb. Everything about it reeks of nastiness. And class. This is how BM should be. When I chance upon a release like this, it reminds me how stagnant the scene has become in parts. Nice Xerox-style cover; black-and-white; pro-tape; great music – what more could you want?
German demon Isegrimh of Pest Wolf is the sole entity behind 'Als Die Nacht Anbrach' and his sound is totally entrenched in the underground. Cold, atmospheric, evil Black Metal is the order of the day and my only complaint is that the album is a little short at just under half an hour, the title track and ten-minute terror 'Vom Dahinscheiden Einer Ruhelosen Seele' being the only two cuts of substantial substance, demonstrating emphatically the kind of brilliance Varganocte can conjure.
That's not to say I have a problem with the intro, outro or interlude cos everything on here hits the mark and it's all part of a complete package, I understand that. For me, this is majestic, ancient, otherworldly Black Metal the way it was originally supposed to be.
Listening along, I can picture a horse-drawn carriage travelling along purposefully beneath a pale moonlight through some lost forest that straddles a deep black river, somewhere in eastern Europe perhaps, its cargo one of pure, undiluted evil, the wheels buckling from the absolute malevolence of the coffin-encased 'soul' contained within, time of the essence as the delivery must be made before sunrise, stillness all around as the consignment tears towards some creepy castle.
But I'm fucked up.
Evilometer: 555/666