VORUM – POISONED VOID LP (Woodcut Records)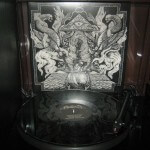 Some underground Death Metal here from Finland. Vorum opts for a no-frills, old school sort of approach mostly and they certainly couldn't be accused of martyring themselves for the sake of their art as there's only 35 minutes of music on this debut album, which contains eight fairly straightforward songs.
The record comes in a gatefold jacket, with not one but two posters included in my copy for some reason. I'll never understand or appreciate this posters-accompanying-records lark but anyway… No lyrics printed anywhere, which is a slight disappointment…
As you can gather, I'm not overly-excited by this record. Yet … there's something about it. I keep going back for more. Again and again. I'm listening to this every day. So, while it's harmless and far from spectacular, my conclusion is that 'Poisoned Void' is a seriously competent and thoroughly enjoyable piece of work. There may not be much of it, or an awful lot to it, but what's here is damn impressive.
A good fix of catchy Death Metal which I'm enjoying much more than I can justify. This one takes me back. To a better place than here.
Evilometer: 555/666