WINTERBLUT – VON DEN PFLICHTEN SCHONES ZU VERNICHTEN 2LP (Nuclear War Now)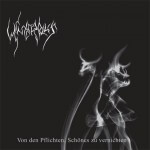 A lot of one-man Black Metal bands impress me more than words can say; Winterblut is such a phenomenon. The brainchild of L'Hiver (who enjoys links to none other than Krieg and Nargaroth), this German act is right up there with the very best, boasting a 15-year recording career that has seen the core sound twist and mutate before reaching an astonishingly happy place on 'Von Den Pflichten Schönes Zu Vernichten' – a veritable monument of sole-purveyor blackness.
I've bought this on both CD and vinyl but I've decided to review the latter version as it offers a very generous allotment of bonus tracks (the label says four, but there appear to be six on here…). NWN isn't renowned for releasing BM but the label boss was so taken by the CD version of 'VDPSZV' that he couldn't resist giving the world a beautiful 12" equivalent (or two). Thank fuck for that! The extra tracks were added to fill out a 2LP and, in all honesty, this noble edition brings the album to a whole new dimension.
While the songs that comprise the original CD are undoubtedly better, the extra tunes are well worth having. They're older and thinner, rawer and punkier, less menacing for their lack of restraint; they show a different side of Winterblut.
On the album proper, L'Hiver executes mid-paced, prowling, lurking Black Metal, the sound of a disease taking over your insides, perhaps; the march of filth and decay, the persistent truth of mankind's hopelessness and unimportance. Brilliantly composed, meticulously thought out, intelligently structured with just the exact right balance between control and chaos, it grates at you, chipping away at your resistance, until there is  no option but surrender. Surrender to the decay. Listening, it's hard to believe one man is behind this. There's a marvellous dynamic at work; everything sounds organic and alive. But soon to be dead.
How can something be so filthy yet charming and appealing at the same time? How does L'Hiver dream this music up? How does he lay it down onto tape layer after layer? How can anyone justify buying shite like Satyricon or Enslaved when there are such glorious alternatives as this to be found buried in the underground?
Evilometer: 555/666