WULKANAZ – PAURPURA FRAEOVIBOKOS LP (Seedstock Records)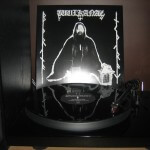 'Paúrpura Fræovíbôkôs' is Wulkanaz's second full-length album and has been released in a limited vinyl edition, which I'm predicting will sell out very quickly and will prove extremely difficult to acquire – and much sought-after – in the future. I wouldn't be surprised if this doesn't resurface, either as a tape or a CD. That's how the underground tends to operate and Wulkanaz is very much of the deepest, deepest underground.
The eponymous project of Tomhet's driving force, this one-man vehicle from Sweden has been spewing out splits and EPs for a few years now, as well as the debut full-length (cassette) 'HaglaNaudizEisaz' last year. I hadn't heard any of the material prior to now but my curiosity was aroused enough to tempt me to hunt 'Paúrpura Fræovíbôkôs' down. I'm delighted I did because this truly is a fabulous slab of occult Black Metal.
Not as psychedelic as I was expecting (thankfully), this is still trippy but essentially evil, erratic, indifferent, pacey and almost punk-y (at times), genuinely-esoteric Black Metal that's so simple and uncomplicated that it's bordering on genius. The record also looks absolutely incredible, housed in a sumptuous gatefold sleeve with 12-page booklet glued on.
A fresh and exciting new voice is always most welcome. Make room in your collection for 'Paúrpura Fræovíbôkôs' (if you can manage to get your grubby paws on a copy).
Evilometer: 666/666