YASS-WADDAH – CITIES OF THE RED NIGHT EP (self-released)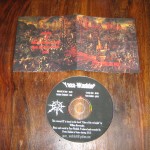 Sometimes the best things come from the most-unexpected sources. Embryonic Italian Black Metal quartet Yass-Waddah have crafted a very enjoyable debut EP and – even though it's only 15 minutes long – 'Cities Of The Red Night' is a refreshing release that I can highlight without hesitation.
A concept EP based on the William Borroughs (yeah, I know, who the fuck is he?) book of the same name, 'Cities Of The Red Night' is much harsher, rawer and fiercer than I was expecting considering the unusual title. The production is forgiving and the music seeps through pretty much as freely as I'd imagine the band wanted it to.
Spiteful vocals, sinister yet melodic guitar licks, tin-can drums and a surprisingly bouncy bass combine to create a sound that's altogether pleasant and commendable. Okay, it's only an EP – and arguably a demo EP at that – but there's definitely enough here to suggest that Yass-Waddah are an entity worth keeping an eye on.
If you're that way inclined, you can listen to / download the entire EP for free via Bandcamp … before buying, of course.
Evilometer: 555/666