MALÉFICES – ASARLAI (Versets Noirs)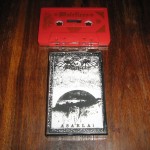 'Asarlai' is the third demo cassette from Maléfices and it's the second one I managed to get my hands on. 'Povr Le Sangs' blew me away but I missed out on 'Rites Crvels' – much to my fucking annoyance. It can be seriously frustrating when releases are subject to strict limitation and you miss out through no real fault of your own (more due to inadequate distribution / lack of availability in Europe…).
Anyway, thankfully I spotted the third demo in a distro I use regularly and snapped it up. Even though it's far from the longest tape I've ever heard, 'Asarlai' is nonetheless thoroughly enjoyable and once more singles Maléfices out as a truly special force. Today alone, I've listened to it back-to-back five or six times and, honestly, it gets better with every listen.
Obviously, being a (pro)cassette, the sound isn't perfect. But it's adequate and, with patience, you can bear witness to some fantastic, raw Black Metal with nice melodic and ambient touches. Demo or no, this is probably as good as any actual mini album that you're likely to come across these days but – let's call a spade a spade here – the tape format isn't for everyone and it's a real shame to see such good music available only in this ancient and almost-defunct guise.
How about somebody releasing all three demos together on one LP or CD? That would be just awesome. Over to you, Versets Noirs!
Evilometer: 555/666