1349 – MASSIVE CAULDRON OF CHAOS LP (Indie Recordings)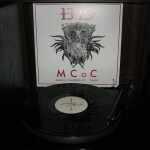 Even though 1349 is by no means one of my favourite Black Metal bands, I still appreciate them enough to have purchased all bar one ('Liberation') of their full-lengths on vinyl. I didn't even realise this until today, whilst listening along to their sixth album, 'Massive Cauldron Of Chaos'. The fact that I've never lost interest speaks for itself.
1349 can always be relied upon to deliver a solid slab of music and their newest effort falls into that category. Eight blasts of mainstream Black Metal with a big production and no frills. Gatefold jacket with lyrics included. A nice acquisition but far from mandatory.
Evilometer: 444/666