BLOOD OF KINGU – DARK STAR ON THE RIGHT HORN OF THE CRESCENT MOON LP (Ván Records)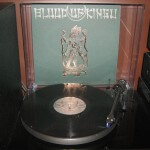 'Dark Star On The Right Horn Of The Crescent Moon' rides my stereo like a storm from the east. Drums like ominous claps of thunder; guitars like torrential rain at the end of days; vocals like a fucking tornado.
Horns as portents of doom, death and demise. Sheets of lightning fill my mind and in the flickers of visibility I see the shredded bodies of fallen fools.
Blood Of Kingu have outdone themselves with this murderous rampage. A visual and aural feast.
Evilometer: 666/666