ALTARAGE – SUCCUMB (Season of Mist Underground Activists)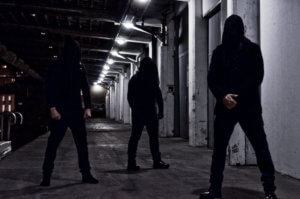 First off, to be clear, this is not music, neither in the conventional sense nor in any other way. What Altarage conjures is something else entirely – an uncontainable barrage of unearthly emanations summoned from the darkest of voids, reconstructed sounds that afflict not just the senses but which enter the deepest recesses of the subconscious. With its insufferable payload of annihilating, obliterating offensives, the Basque battalion's unrelenting fourth full-length comprises a lethal concoction of rumblings from beyond this plane, a devastating blow delivered via a truly shattering assault.
Throughout 'Succumb', a series of searing sonic shock waves wreaks havoc as Altarage unleash their most venomous, vitriolic and violent ambush to date. The guitar attack is even more frenzied and focussed than hitherto, firmly fixed on the target, Altarage's trademark hyper-speed multi-limbed drumming laying everything to waste when it's not providing the particular pulse for unhinged chaos.
The musicianship on display here is frankly frightening, omnipotent but with no end of intricacies revealed upon repeat listens. Pace changes and ingenious compositional nuances elevate proceedings through increased dynamism while, stitched into the maelstrom of malevolence, harrowing, strangulated, chilling vocals perfectly encapsulate the nightmare of existence, the occasional industrial elements a timely reminder of the threat to mankind posed by technological tyranny in a new totalitarian global state.
While the bombardment is honed to such an extent that they are almost unrecognisable at times from their earlier releases, this is still Altarage through and through, the stunningly addictive 'Foregone' and 'Vour Concession' examples of prime Altarage that could have been lifted from any of their three previous opuses. The former in particular is a nostalgic nod to debut full-length, 'Nihl' – the delirious debut which emphatically announced the arrival of an ominous and unstoppable force just five short years ago.
Cold, crushing and decidedly calculated, on the inhuman follow-up to 'The Approaching Roar', Altarage deliver their otherworldly arrangements like machines not men, each stroke fired with military precision, the punishment beginning unapologetically on 'Negative Arrival' – a two-minute opening swing setting the scene for the band's most merciless attack yet – and ending gloriously on the towering, haunting, largely-ambient 22-minute denouement 'Devorador De Mundos' – a tantalising deliverance which merits an appraisal all of its own.
Setting a new standard for others to follow, Altarage have outdone themselves on the aptly-titled 'Succumb', the freshly-engineered flagship in an intimidating, inexorable discography rending and wrenching with contemptuous indifference across its eradicating 64-minute duration, its dozen deadly detonations rupturing all within reach. The roar has arrived.
Evilometer: 666/666