ALTARAGE – NIHL LP (Iron Bonehead Productions)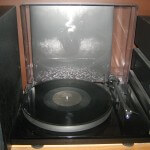 I invest so much of my hard-earned cash in vinyl that, as the years progress, I'm becoming increasingly prudent and careful with what I actually buy. Improving quality control has given rise to the rather strange scenario where the greatness of each new record is a given, something I take completely for granted. A case of the more I get, the less I appreciate each of them.
It goes like this: I buy the record (nine times out of ten, I'm already familiar with the tracks), anxiously await its arrival, lovingly remove it from the packaging, peek at the poster if there is one while I give the glistening black wax a few spins, then file it away.
Nothing remarkable really happens anymore. Just one fantastic record after another. A procession of almost banal magic. I'm like a man who feasts upon lamb's kidney and heart for dinner every day and washes them down with golden nectar, one who's on the receiving end of exactly 35 enthusiastically-delivered blowjobs every week. So spoiled that I tend to neither appreciate nor recognise just how lucky I am, overlooking – almost dismissively – the true greatness that stands before and all around me.
Also, it gets harder to talk about them. I mean, how many different ways are there to say 'this is a brilliant Black Metal album'?
Then along comes Basque bastards Altarage's debut full-length 'NIHL' to leave my jaw permanently stuck to the fucking floor. I've had this monster on steady rotation at the expense of all else for three days now and it just keeps getting better. Certainly one of the best LPs I've acquired this year, 'NIHL' is mandatory for those who are enjoying the hybrid offerings of Portal, Teitanblood, Genocide Shrines, Mitochondrion, Antediluvian, Grave Upheaval, Irkallian Oracle, Impetuous Ritual, Adversarial, Mefitic and so on (the list is getting longer!) .
A truly astonishing album with some of the punchiest, most addictive drumming to ever adorn a Black / Death Metal recording and a lot, lot more besides. Searing guitars, anguished otherworldly hollers, soul-destroying bass. The crushing atmosphere lives and breathes, pouring from the speakers like a tsunami of terror. And we all love terror. Let it rain upon you.
Evilometer: 666/666