ANAL BLASPHEMY – PERVERSIONS OF SATAN LP (Iron Bonehead Productions)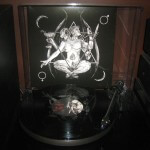 Unsurprisingly, 'Perversions Of Satan' is a sick and twisted ride. But, thankfully, there's more to Anal Blasphemy's third (and final, evidently) full-length than naked deviancy and sexual perversion. Any sense of gimmickry was left at the studio door and the self-confessed Molestor instead crafted an album of solid, straight-up Black Metal, obviously with a perverted bent.
The song-writing is excellent, the music is much more substantial than one might expect from an act deploying this moniker, and there are some unexpected curveballs (such as 'Lust for Satan (Sexual Worship)', the last track on Side A, complete with orgasmic-and-ghastly female vocals).
'Perversions of Satan' first surfaced in 2012 and the vinyl edition (including gatefold sleeve, lyrics, liner notes, poster and bonus track) was issued three months ago by the tireless IBP. If, like me, you keep your vinyl in alphabetical order, this one should find an appropriate home somewhere between Abscess and Archgoat and within reach of Carpathian Forest.
Evilometer: 555/666