DEATH FORTRESS – AMONG THE RANKS OF THE UNCONQUERABLE LP (Fallen Empire Records)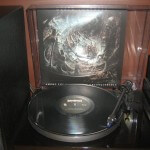 I find it impossible to listen to Death Fortress's debut full-length without thinking of Hate Forest. 'Among The Ranks Of The Unconquerable' is unashamed Ukrainian BM worship from start to finish, the only truly discernible difference being that the New Jersey horde supplement the trademark HF death growl with occasional more conventional Black Metal shrieks.
I don't have any problem with a band sounding very similar to another. As long as it's good, who cares? And, for the most part, 'Among The Ranks Of The Unconquerable' is truly impressive. The downside for me is that – after an invigorating start and middle – the record seems to peter out towards the end, losing my interest slightly during the course of the final two tracks, 'Pride Of The Enslaver' and 'Ancestor's Call', for some reason that I can't quite put my finger on, some of the momentum and energy lost as the final strains of an otherwise engaging LP seep through the speakers.
Evilometer: 555/666