ARCKANUM – FENRIS KINDIR (Season Of Mist)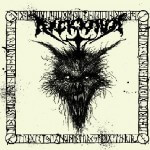 Must admit to being blown away by the scorching guitar sound conjured by Shamaatae on Arckanum's eighth full-length proper, 'Fenris Kindir'. The strings are like weapons; they sound like they could tear through flesh. They lend the album a truly searing, blistering quality which immediately elevates it into the upper echelons of recent releases.
I had pretty much given up on Arckanum after he parted company with Debemur Morti Productions (surely a mistake…) and landed the abysmally inadequate 'Sviga Læ' album, but 'Fenris Kindir' represents a definite return to form and can stand toe-to-toe with the likes of 'Kostogher' and 'Antikosmos' in one of Black Metal's great canons.
All in all, this is a surprisingly-good album with plenty of variety, superb musicianship and undoubted quality throughout. No need to say any more, really.
Evilometer: 555/666