BEHEXEN – RITUALE SATANUM (Debemur Morti Productions)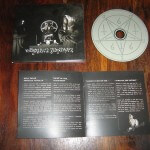 DMP re-released 'Rituale Satanum' in digipak format a good few months back and, even though I really love Behexen's work, the debut full-length was sadly conspicuous by its absence from my collection. Recorded as far back as 1999, this is easily as good as anything the band has put its name to during the intervening 14 years (which is saying something…) and is rightfully regarded as something of a Black Metal classic.
With a truly sinister sound, generous helpings of trademark Finnish malevolence, a suitably dark ambience, nightmarish vocals, buzzing strings and, true to form, granted a beautiful packaging makeover by the quality-driven French label (including tasteful booklet, printed lyrics etc.), this CD is a total no-brainer. Ideally, I'd have preferred a vinyl version but this will do just fine for now.
Evilometer: 555/666