ACHERONTAS – AMENTI 2LP (World Terror Committee)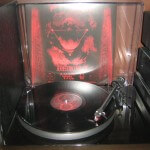 Presented in a luxurious gatefold jacket and boasting a fuck-off booklet that's almost the equivalent of a novel (astonishing attention to detail; think Nile), the double-vinyl edition of Acherontas' fourth full-length album is a joy to behold. Certainly, 'Amenti – Ψαλμοί Αίματος και Αστρικά Οράματα' (to give it its full title) is getting an unreserved ten out of ten for looks!
Musically, Acherontas is an intriguing entity. Unmistakably eastern European in general hue, they deliver a very mystical and esoteric strain of Black Metal that is admittedly bland and inoffensive enough in parts but at the same time is elevated above the norm / mundane by some sublime atmospheric, ambient and ritualistic passages.
With these very clever touches, music that would otherwise be quite boring and tedious becomes exceptionally beautiful and captivating. A good trick!
Make no mistake, 'Amenti – Ψαλμοί Αίματος και Αστρικά Οράματα' is a damned fine album even if it does fall victim to the dreaded blank-Side-D syndrome which is plaguing 2LPs of late (and pissing me off no end – take a bow both Grave Upheaval and Grave Miasma).
Evilometer: 555/666