BEKËTH NEXËHMÜ – DE GLÖMDAS URSJÄLAR LP (Nordisk Kultur)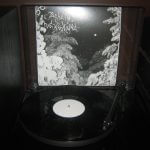 The latest Bekëth Nexëhmü record (seems I review one of these every couple of years) is a bit of a strange fish in that the LP version of the single track offered, 'En Förglömd Ursjäl', runs for 23-and-a-half minutes while the CD version passes the 40-minute mark. There's nothing on the second side of the record! My first reaction to that hammer blow was one of disgust. Surely I deserve to hear the entire thing?
Once I'd got over the disappointment, however, I came to realise that 'De Glömdas Ursjälar' is a truly phenomenal LP even as it is. Okay, some of it is missing … but the music that is presented here possibly represents BN's finest offering to date
It's an extraordinary spacey, ambient Black Metal track, which seems to last forever anyhow and – instead of flipping the record over to hear the pretty redundant ambient outro section that has been culled – I can play the meat and bones part of Swartadauþuz's vision over and over again. I've spun this record a hell of a lot and it seems to get better each time.
Despite the lost 17 minutes, I cannot deduce any marks.
Evilometer: 666/666